POC Meetings
The next regular meeting of the Planning and Ovesight Committee is scheduled for Wednesday, May 2, 2018 from 6:00 to 9:00pm at Oakland City Hall, 1 Frank Ogawa Plaza, 2nd floor, Hearing Room 4, Oakland, CA 94612.


OFCY Strategic Plan - Final Community Cafe & Strategy Showcase Event
OFCY will host two additional events to engage parents, youth, families and community members on how best to benefit Oakland's children and youth through funding from the Oakland Fund for Children and Youth. The final Community Café will be held on Tuesday, April 24, 2018 (4pm-6pm) at the West Oakland Library (1801 Adeline Street). It will focus on Arts, Enrichment and Neighborhood Safety but community input does not need to be limited to these topics.
A strategy showcase event will take place on Thursday May 24, 2018 (5pm-7pm) at Oakland City Hall (1 Frank Ogawa Plaza, Hearing Room 3) to share draft strategies with the public and receive feedback from the community. These events are co-sponsored and co-hosted by the Oakland Youth Advisory Commission (OYAC), and will help inform the youth commissioners and OFCY's Planning and Oversight Committee on needs and priorities in Oakland. Food and refreshments will be provided at both meetings! For more information, please contact Program Planner Mike Wetzel at mwetzel@oaklandnet.com or 510-238-3242.
Click on a flyer below to download a pdf version. Flyers are availabe in English, Spanish and Chinese.


OFCY Strategic Plan Community Input Survey
OFCY's Community Input Survey is another way for Oakland's youth, parents, service providers, and community members to provide insight and recommendations for OFCY's 2019-2022 Strategic Investment Plan. This brief survey will help OFCY better understand community priorities in support of Oakland's children and youth. A modified version intended for parents is now available in Spanish. Please click on the link below to access the appropriate survey and submit them by Friday May 4, 2018. Thank you for your input!



Oakland Youth Ally Alliance (OYAA) Social - April 27th, 5-8pm
Spring is upon us and it is time to enjoy the beautiful Oakland weather! What better way to do that than to socialize with other Youth Development Professionals from across Oakland at Friday Nights @ OMCA? Please RSVP at https://oyaa-at-omca.eventbrite.com. For more information about OYAA, please visit http://brothersontherise.org/oyaa/.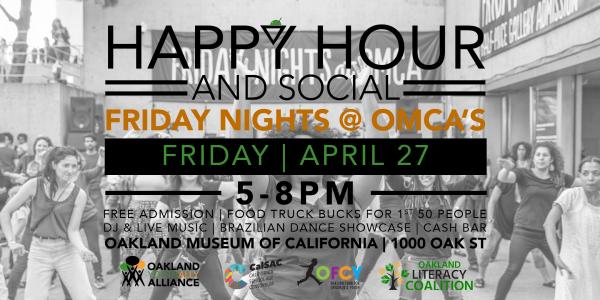 OFCY Resource Page
Visit the OFCY resource page for announcements from the February 6, 2018 OFCY Convening.